Good day everybody.
As the title states, it's time for a review of the last of the Printed helmets that had come out with this release.
So here we go: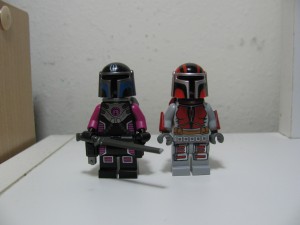 Left to right: Pre Vizla Helmet(Displayed with Alien Conquest legs and Torso / BrickArms Tactical Sword/ Si-Dan Toys belt / Arealight Jet pack)
Rav Helmet (Painted Arealight Jet pack, Painted Power Miners Legs, Painted BrickForge Vambraces, Printed Arealight Torso with Red battle suit)
Arealight did a great job with getting the detail in on both of these helmets.
Alright, so we'll go ahead and start off with the Pre Vizla Helmet. First off, the Helmet does seem quite accurate in comparison to the reference picture. The helmet itself is done very well, it has a very crisp printing job and the dark silver is actually printed all the way around the helmet.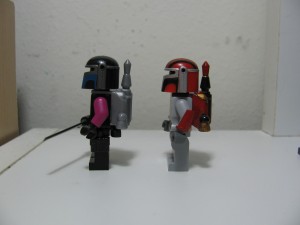 The Dark Silver is a close match to both Brickarms' Gun Metal and Brickforge's Steel as well as the Platemail print for the new Lego Kingdoms knights. If you're looking for a paint color to match this helmet, I'd suggest using Citadel's Bolt Gun metal. The white on this helmet is transparent, but it works fine here since it is just small detailing ont he helmet. The highlights on the helmet seem to be a nice purple color. If you need something to match those highlights to, the Alien Conquest alien color works quite well. Over all, this is a great helmet; definitely worth it if you were looking into getting this helmet.
Moving on to the Rav helmet: This is personally one of my favorites. This helmet matches the reference quite well. The silver on the helmet is just plain beautiful and is printed relatively well. There are a few tiny tiny gaps that aren't really noticeable unless you look closely between the print surrounding the visor and the sides of the helmet. The black print is very nice as well and goes from front to back.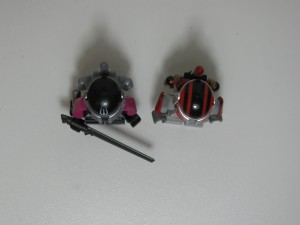 The red of the helmet is a match to Lego Red, and the silver matches the Lego light silver. If you're looking for paint to match the silver, Citadel's Mythril Silver does the job well. The helmet also fits quite well with Arealight's printed Torso, though I'm pretty sure they're referenced from the same character. With that said, I can definitely recommend this helmet to anyone looking into getting a Mandalorian helmet for their collection.
Back photo of the helmet. The design goes all the way around.
Now as for the helmet itself, I'd like to make a note that it does in fact hold Arealight's Phase 1 Visor.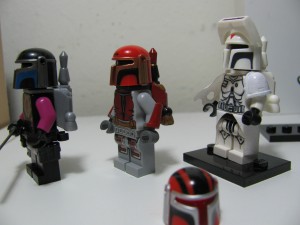 HOWEVER, it is very hard to remove once you get it in; so do this at your own risk. The visor was not made for this helmet, but it does fit it very well and still moves up and down.
Alright so all in all: I would highly suggest you pick these up if you want some printed Mandalorian helmets. I personally like both quite a bit.
I hope you enjoyed these reviews and that they helped you in making your decision to purchase or not.
-Apples
Alright. So With that said, I'd like some input:
Arealight put me in charge of the blog, sort of; so I want to know what you, the reader, would like to see on here. What would make things interesting for you?