It's been a while hasn't it?
Well, here we go again with another small review of Arealight's new printed items.  It's been about a month or so since their release, but since the store was closed a few weeks following, there wasn't too large of a frame for purchasing them.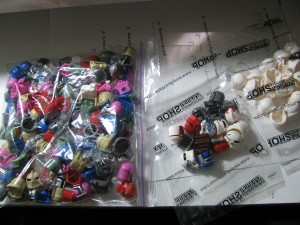 Here's a picture of everything Arealight sent me for this Wave~. The baggie on the left contains lots of the prints on random coloured helmets, the one in the center contains new prints and finally the one on the right contains the helmet mold in new plastic! (We'll talk about this later~).
So this is for those people who are still debating whether or not to get them or not, I know I definitely get that way sometimes when new product comes out.
For this release we've got lots to show! Five new Mando prints, three new commander helmet prints, two new jet packs and reprints of Jesse and Hardcase. Jesse's design has also been updated to be more accurate.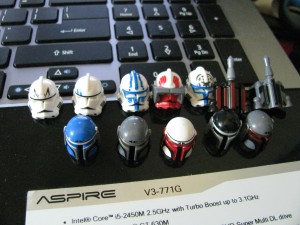 So from Left to right we have the Force Helmet, Security Helmet, reprinted hardcase, Thorn helmet Jesse Helmet, Dred Jet pack, and Barin Jet pack in the back row. In the front row, from Left to right, we have the Galen helmet, Barin Helmet, Fenri Helmet, Goran helmet, and Jaster Helmet.
Since so many products have been released in this run (a total of 10), I'll be doing a two part review. For this half, I'll be reviewing the new commander helmets and the two jet packs and then we'll take a look at the mando helmets in the next review.
Let's start with the Force helmet~
The force helmet is based off of an action figure from the extend universe. It's essentially a regular clone trooper helmet with the Jaig Eyes in black. It's a very simplistic design, but still is quite nice, I think it would have been a nice touch to have the jaig eyes a different color though (it wouldn't match the reference however). The helmet itself is completely printed front, back and sides. I could personally see a lot of people using this helmet to modify into a regular clone trooper helmet as well due to it's simple design. Should you want to do that, it'd just be a bit of brasso each helmet on the front and it'd probably go by pretty quickly. So I would say this would be a pretty nice helmet to add to your collection, and if you want to do some "army building", it'd be a good way to get regular phase 2 helmets.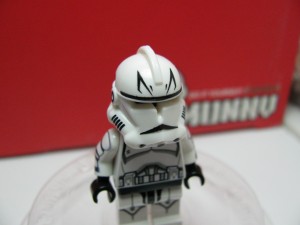 And here is a close up of the actual product. The printing is pretty crisp as usual. There was a small blur on my copy on the mouth piece, but I believe I was just a bit unlucky here. The blur itself isn't really noticeable, and doesn't show up on any other of the variants of the helmet.
Moving on, we have the Security Trooper helmet.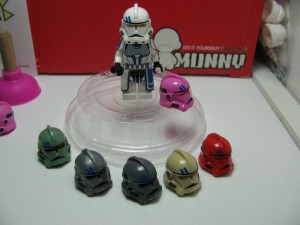 The security trooper figure, similarly to the force trooper, is based off of an action figure. The design itself is pretty simple, but I still love how this helmet looks despite it's simplicity. The helmet sports two hatch marks on the side and printing all the way around. Definitely a nice helmet to add to your collection if you like simplicity!
And here is a close up of the helmet. As you can see the print job is pretty crisp and clean as usual.
Next up, we have the Thorn helmet!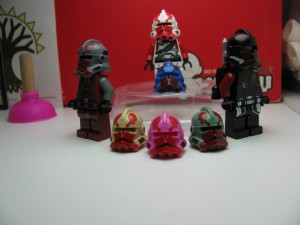 The Thorn helmet is based off of Commander Thorn from the Television series. Thorn is pretty popular despite the lack of information on him. The helmet itself sports red printing with a pair of wings on the helmet and printing on the back of the helmet. I would definitely recommend picking this up if you get the chance since it's just a fantastic design.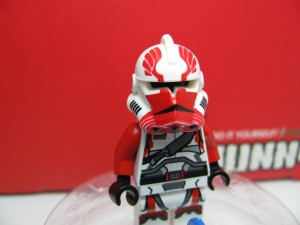 And here is a close up of the helmet itself. Unfortunately some of the helmets have a small blur between the wings. However, I personally feel it still looks pretty nice despite this. On the other hand some of them don't have the blur.  Such as in these off color prints.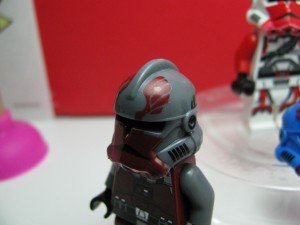 All in all, if you get any helmet from this print run, pick up this one. It's definitely one of the nicest designs.
That does it for all of the new commander helmet releases, so we'll move onto the jet pack releases~
For the jet pack releases, we have two new jet pack releases. First we've got the Dred jet pack: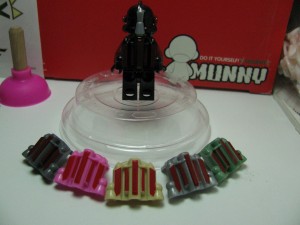 The Dred jet pack is based off of a Mandalorian bounty hunter's pack. The jet pack sports red printing on a black jet pack and will come with a silver rocket. The printing is simple, but still looks fantastic. Definitely a nice fit for any figures you want to have a jet pack, even if it's not a Mandalorian. It's also great in other colours if you happen to get an off color one.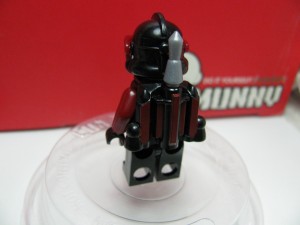 As usual, here's a close up of the jet pack. The printing is clean and crisp as usual. Definitely a great addition to your collection.
As for the last piece of this release, we have the Barin jet pack.
The Barin jet pack is also based off of a Mandalorian bounty hunter's jet pack. It sports black printing on a dark bluish grey jet pack and includes a dark bluish grey rocket. The black printing is a bit unique and different from most printing for jet packs. It has breaks in the designs on the pieces attached to the boosters. It's a very simple design that fits well with many figures outside of Barin. And as usual, looks great on other colors.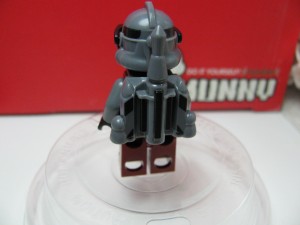 As you can see the printing is very crisp and clean as usual. I would definitely suggest picking up at least this pack or one of the other jet packs before they run out.
As a little added bonus,  we have the updated Jesse helmet.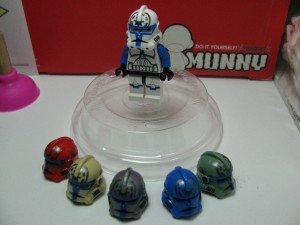 The Jesse helmet now sports a metallic republic symbol instead of the blue one from the original helmet.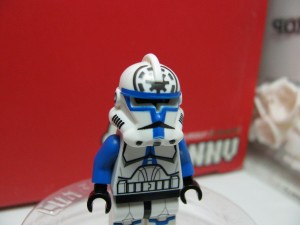 I feel like it definitely looks a lot better than the original.
If you get a chance, definitely pick up some of these commander helmets and jet packs.
Anyways, join me next time for the Mandalorian helmets.